AN OUTLINE OF CHANOYU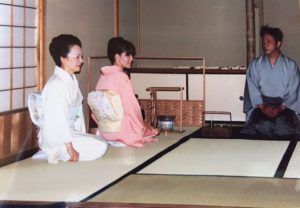 Traditionally, chanoyu takes place in simple room called a chashitsu, which is set in a garden.Guests approach the chashitsu on a path called roji, a Buddhist term meaning "a dewy path"to a pure world, along which one strives to shed worldly attachments. Then through the simple garden to the chashitsu.
Just before entering the chashitsu, the guests pause at a stone basin brimming with fresh water.
Here each rinses his hands and mouth, symbolically purifying both body and soul. Near the entrance is another feature called a chiriana or "dust hole", another reminder to leave all the earthly attachments behind.
The small entrance to the chashitsu is an opening approximately two feet square.
In the days of Rikyu, strict class distinctions were observed in society, but in the teahouse, everyone was equal. Swords, a symbol of the warrior class, were removed and placed on a rack near the entrance.
Everyone being equal, they could share a sense of mutual understanding and consideration.
Entering the simple chashitsu, each guest sits in front of the tokonoma to appreciate the scroll. Unlike framed pictures hung in westen rooms, it is selected for this single occasion and is the most significant object in the chashitsu.
Most of these hanging scrolls are brush written calligraphy.
The calligraphy of Zen priests and past tea masters is considered the most appropriate.